The stellar wind velocity field of HD 77581
2015-07-07 | INTEGRAL, HEAVENS, X-ray binary
The early acceleration of stellar winds in massive stars is poorly constrained. The comparison of X-ray observations of the high-mass X-ray binary Vela X-1 accumulated over 9 years, with hydodynamical simulations allows to constrain the stellar wind velocity field very close to the surface of the super-giant companion. The observed acceletration is more efficient than usually assumed.
Origin of the X-ray off-states in Vela X-1
2014-12-22 | INTEGRAL, X-ray binary, HEAVENS
INTEGRAL discovered huge hard X-ray variability and off-sates in Vela X-1 and other high mass X-ray binaries. Hydrodynamic simulations allowed us to discover the likely source for such variations occuring on time scales of hours. These variations are related to oscillations of the accretion rate (with a typical period of ∼ 6800 sec) corresponding to the complex motion of a bow shock forming between the neutron star and the massive companion, moving either towards or away from the neutron star.
Swings between rotation and accretion power in a millisecond binary pulsar
2013-09-26 | INTEGRAL, X-ray binary | Press Release
A new transient source, identified as IGR J18245-2452, was first detected in X-rays on 28 March 2013 by INTEGRAL in the globular cluster M28, which lies in the constellation Sagittarius. Observations by XMM-Newton determined the pulsar's spin period to be 3.9 milliseconds clearly identifying it as an X-ray-bright millisecond pulsar powered by accretion of material from a nearby low-mass star companion. The spin period and other key characteristics was found to match perfectly those of a pulsar in M28 that had been observed in 2006, but only at radio wavelengths. This is then the first ever fast-spinning 'millisecond pulsar' caught in a crucial evolutionary phase, as it swings between emitting pulses of X-rays and radio waves.
Measuring neutron star masses by gravitational deflection
2012-09-13 | INTEGRAL, X-ray binary | Press Release
Neutron stars are fundamental to probe the physics of matter at the highest density, where even atom nuclei are broken into quarks. New stellar systems, discovered by INTEGRAL, including a neutron star orbiting a massive companion, allow to weight the neutron star in an original manner, by measuring the gravitational deflection of the wind stream generated by the companion star. The gas stream is so dense that it completely absorbs the emission of the neutron star, even X-rays. Only gamma-rays telescopes, such as INTEGRAL, can detect them.
XMM-Newton observations of IGRJ18410-0535: The ingestion of a clump by a supergiant fast X-ray transient
2011-06-28 | INTEGRAL, X-ray binary | Press Release
With a stroke of luck, we caught the supergiant fast X-ray transient IGRJ18410-0535 undergoing a bright X-ray flare by using ESA's XMM-Newton X-ray observatory. This outburst of X-rays, which lasted about four hours, was due to a sudden increase in the rate at which the neutron star was accreting matter from its companion, a blue supergiant star. By monitoring this phenomenon in unprecedented detail, the data provide the first, substantive evidence to explain such luminosity variations in this type of binary system; the flare appears to be due to the ingestion of a massive clump of matter by the neutron star.
AX J1910.7+0917 and three newly discovered INTEGRAL sources
2011-01-11 | INTEGRAL, X-ray binary
We investigated the nature of the still poorly known X-ray source AX J1910.7+0917 and searched for closeby previously undetected objects, making use of the high sensitivity of the IBIS/ISGRI telescope and the improvements in the data analysis software. We analyzed all publicly available data from INTEGRAL, XMM-Newton, Chandra and ASCA and we discussed the different possibilities for the nature of AX J1910.7+0917. In the IBIS/ISGRI field-of-view around AX J1910.7+0917, we discovered three new sources: IGR J19173+0747, IGR J19294+1327 and IGR J19149+1036. For two of them we report the results of follow-up observations carried out with Swift/XRT.
X-ray wind tomography of the highly absorbed HMXB IGR J17252-3616
2010-12-08 | X-ray binary, INTEGRAL
We observed the highly absorbed HMXB IGR J17252-3616 along the orbit with XMM-Newton. Our analysis suggests highly asymmetric (and extended) structures trailing the neutron star and slower wind terminal velocities (~400 km/s) than observed in classical systems. If confirmed, it may turn out that half of the persistent sgHMXB have low stellar wind speeds.
Shock-in-jet model for quasars and microquasars
2010-10-06 | AGN, X-ray binary
We present the detailed equations for a physical modeling of the synchrotron emission of shock waves propagating in a relativistic jet. We illustrate this by fitting a series of model outbursts to a flaring episode observed in the radio and infrared emission of the microquasar Cyg X-3 and derive the physical conditions in the jet flow.
INTEGRAL discovery of a new transient source: IGR J16374-5043
2010-08-24 | INTEGRAL, X-ray binary
A new transient hard X-ray source was discovered by INTEGRAL in the large field of view of IBIS/ISGRI during observations of another source, RX J1713.7-3946. The new source called IGR J16374-5043 produced a bright flare on 22 August 2010 lasting about a day.
Pulsed thermal emission from the accreting pulsar XMMU J054134.7-682550
2010-06-29 | X-ray binary
In August 2007, the X-ray binary pulsar XMMU J054134.7-682550 made a giant type II outburst, reaching the Eddington limit. The reflection of the hard X-ray, emitted close to the neutron star, on the inner part of the accretion disk allowed the determination of the geometry of the broadened inner disk (width of 75 km). The thermal emission from the disk could also be detected during the outburst.
INTEGRAL and RXTE observations of XTE J1946+274 in outburst
2010-06-23 | INTEGRAL, X-ray binary
During the observations of Cyg X-1 in satellite Rev. 0938 (PI Wilms), INTEGRAL caught the Be/X-ray binary transient XTE J1946+274 in outburst (flux of ~135 mCrab, 20-40 keV range). This is the first outburst of the source since 2001 after a long quiescence period.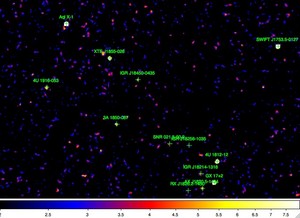 An exceptionally bright outburst from the HMXB XTE J1855-026
2010-03-16 | INTEGRAL, X-ray binary
On 14 March 2010, INTEGRAL observed three exceptionally bright flares from the high-Mass X-ray Binary XTE J1855-026. The first flare lasted only about 2 minutes and reached a peak intensity of almost that of the Crab nebula.
INTEGRAL spectra of the cosmic X-ray background and Galactic ridge emission
2010-01-14 | INTEGRAL, Diffuse emission, AGN, X-ray binary
We reanalyzed the INTEGRAL Earth occultation observations of early 2006 to derive IBIS spectra of the cosmic X-ray background (CXB) and of the Galactic ridge X-ray emission (GRXE) in the ~20-200 keV range. The potential of such observations is demonstrated by the state-of-the-art hard X-ray spectra we derived for three fundamental components: the CXB, the GRXE and the Earth emission.
Discovery of IGR J17497-2821 : a new X-ray nova
2006-11-27 | INTEGRAL, X-ray binary | Press Release
INTEGRAL discovered a hard X-ray transient on 17 Sep. 2006 near the Galactic Centre. Infrared and X-ray follow-up observations pin-point the source location and show that it is a new X-ray nova and likely a black-hole candidate.
Public INTEGRAL TOO observation of V 0332+53 in outburst
2005-01-12 | INTEGRAL, X-ray binary
The High-Mass X-ray Binary V 0332+53 (EXO 0331+530), underwent a dramatic outburst at the end of 2004, and was a Target of Opportunity (TOO) for a public INTEGRAL observation conducted on 6-10 January 2005. Three cyclotron lines are clearly detected in the spectrum.